My next gig is at Oxjam this Saturday, I will be performing at Trailer Happiness : )
I will be headlining at Trailer Happiness, I hope to see you there xx
It is nearly time for our Grand Finale, Oxjam Notting Hill Takeover Festival! ONE WRISTBAND, 5 VENUES, 40 ARTISTS ALL FOR 10 QUID! And incase you didn't know, proceeds go to Oxfam GB.
We've got a mixture of music and comedy kicking off at Mau Mau, starting at 3pm! Trailer Happiness will be hosting some wonderful soul singers from 5pm and DJ's from 8pm.
Both kicking off at around 7pm we've got Portobello Gold and The Castle playing host to some amazing singers and bands. And finally for all of you that wa
nt to carry on the Oxjam party we have The Globe with their resisdent DJ's bringing you the best Reggae and Dancehall until 2am.
One £10 wristband grants you entry into all these venues, they are all within a few minutes of each other so you can walk, crawl, run to catch these very talented artists...
Pyrelli
,
Latala
,
English Flaws
,
Gamer Music
,
V-Device
,
the bedroom hour
,
jessica symonds music!!! x
,
Clencha
, B
B LIZ
,
TomMacTom
, Devil Say Dance, Funk't Up, Ann- Marie Lataille, L.I.A, Citizen J, Music is Memory, LDG, Ray Domingo,
Sherry Davis
, J.Appiah, Nina Rubesa, Tiger Rose, Harry and George, Charlotte Lynch, Andrea Black, Dorjee, Showerz & Talent, Any O'Niell, Black River Wild, Afro Grooves, Nemisis, Samson, Jai, Anna Phoebe, Funmilayo, DDark and a very special treat to round off the afternoon at Mau Mau... Comedian George Lewis!
There will be a couple of surprises coming up over the next week so keep your eyes peeled on our facebook page and Twitter: @oxjamnhtakeover
https://www.facebook.com/OxjamNottingHillTakeover
Tickets can be purchased here
http://www.wegottickets.com/event/239792
And on the door.
If you are unable to attend you can still help the cause by donating to our JustGiving page here:
http://www.justgiving.com/oxjamnottinghill
The Oxjam Notting Hill Takeover team look forward to seeing you there!
http://www.timeout.com/london/music/oxjam-2013-festival-line-up
Oxjam 2013 festival line-up
Our round-up of the best Oxjam events taking place in this capital this autumn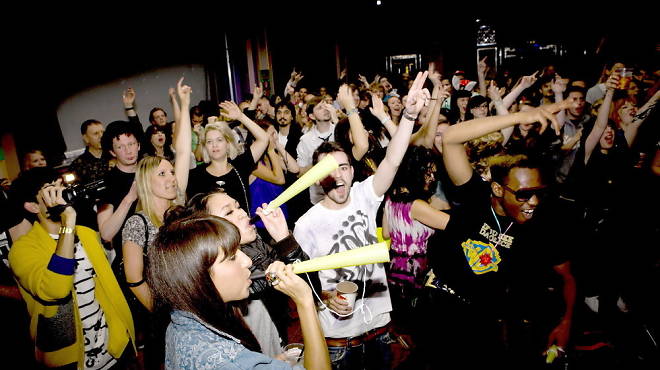 Technically speaking, Oxjam is one of the biggest music festivals in the UK. With dozens of events featuring thousands of artists in cities throughout the country, this charity festival (this year taking place Mon Sep 23 – Sat Oct 29) place is run by volunteers and all the proceeds go towards Oxfam's anti-poverty initiatives. So, fancy catching some great live music and feeling extra-good about it? Find a local Oxjam event or multi-venue takeover near you with our handy guide.
What's happening in London for Oxjam 2013?